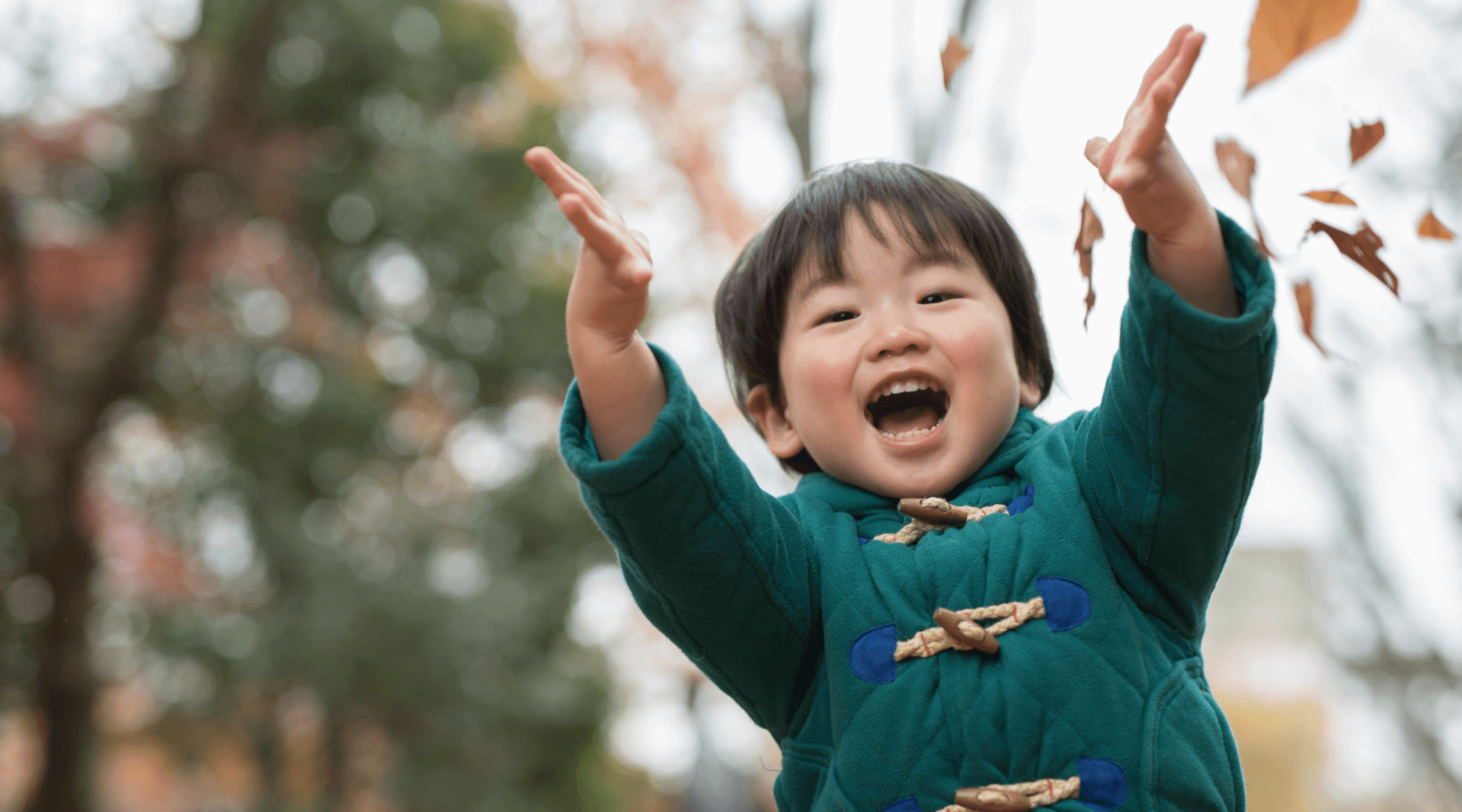 Social-emotional development is a child's ability to express their emotions effectively, follow rules and directions, form positive relationships with others, and build confidence. Many things affect social-emotional growth, such as a child's biology, home environment, school environment, and life experiences. 
To learn in a classroom, children must be able to manage their feelings, pay attention to directions, and play and work well with others. Children who learn how to do these things are more likely to 
Establish friendships with other children their age 
Develop stronger speech and problem-solving skills 
Follow rules at home and at school 
Concentrate and work through a challenge 
Have confidence to try new things 
Click on the tabs below to learn by which age most children reach certain social-emotional milestones according to the Centers for Disease Control and Prevention (CDC). 
BY 2 MONTHS, MOST CHILDREN... 
Begin to smile at people  
Can briefly calm themselves (may bring hands to mouth and suck on hands)  
Try to look at parents 
BY 4 MONTHS, MOST CHILDREN... 
Smile spontaneously, especially at people  
Like to play with people and might cry when playing stops  
Copy some movements and facial expressions, like smiling or frowning 
BY 6 MONTHS, MOST CHILDREN... 
Know familiar faces and begin to know if someone is a stranger  
Like to play with others, especially parents 
Respond to other people's emotions and often seem happy  
Like to look at self in a mirror  
BY 9 MONTHS, MOST CHILDREN... 
May be afraid of strangers  
May be clingy with familiar adults 
Have favorite toys 
BY 1 YEAR, MOST CHILDREN... 
Are shy or nervous with strangers  
Cry when parents leave  
Have favorite things and people  
Show fear in some situations  
Hand books to adults when they want to hear a story  
Repeat sounds or actions to get attention  
Put out arm or leg to help with dressing 
Play call and response games such as "peek-a-boo" and interactive games like "pat-a-cake"  
BY 18 MONTHS, MOST CHILDREN... 
Like to hand things to others as play  
May have temper tantrums  
May be afraid of strangers  
Show affection to familiar people  
Play simple pretend, such as feeding a doll  
May cling to caregivers in new situations  
Point to show others something interesting  
Explore alone but with parent close by  
BY 2 YEARS, MOST CHILDREN... 
Copy others, especially adults and older children  
Get excited when with other children  
Show more and more independence  
Show defiant behavior (doing what he has been told not to)  
Play mainly beside other children but are beginning to include other children, such as in chase games  
BY 3 YEARS, MOST CHILDREN... 
Copy adults and friends  
Show affection for friends without prompting  
Take turns in games  
Show concern for a crying friend  
Understand the idea of "mine" and "his" or "hers" 
Show a wide range of emotions  
Separate easily from mom and dad  
May get upset with major changes in routine  
Dress and undress themselves  
BY 4 YEARS, MOST CHILDREN... 
Enjoy doing new things  
Play "mom" and "dad"  
Are more and more creative with make-believe play  
Would rather play with other children than alone 
Cooperate with other children  
Often cannot tell what is real and what is make-believe  
Talk about what they like and what they are interested in 
BY 5 YEARS, MOST CHILDREN... 
Want to please friends  
Want to be like friends  
Are more likely to agree with rules  
Like to sing, dance, and act o Is aware of gender  
Can tell what is real and what is make-believe  
Show more independence (for example, may visit a next-door neighbor by themselves with adult supervision) 
Are sometimes demanding and sometimes very cooperative  
What can you do to support social-emotional development?
The first five years of life have a big impact on a child's overall social-emotional health. Here are some ways that parents/guardians and caregivers can support this area of development.
Provide lots of playtime with other children. This helps your child practice sharing, cooperating and making new friends.
Focus heavily on your child's good behavior. Praising your child regularly (3 times more often than you correct mistakes) helps him or her become confident.
Stick to a routine. A daily schedule of mealtimes, playtimes and bedtime helps your child more easily transition from one activity to the next.
Create a visual set of rules. Make a list of 3-5 rules with pictures to hang somewhere in your home. This helps your child learn boundaries.
Download This Information In Other Languages: