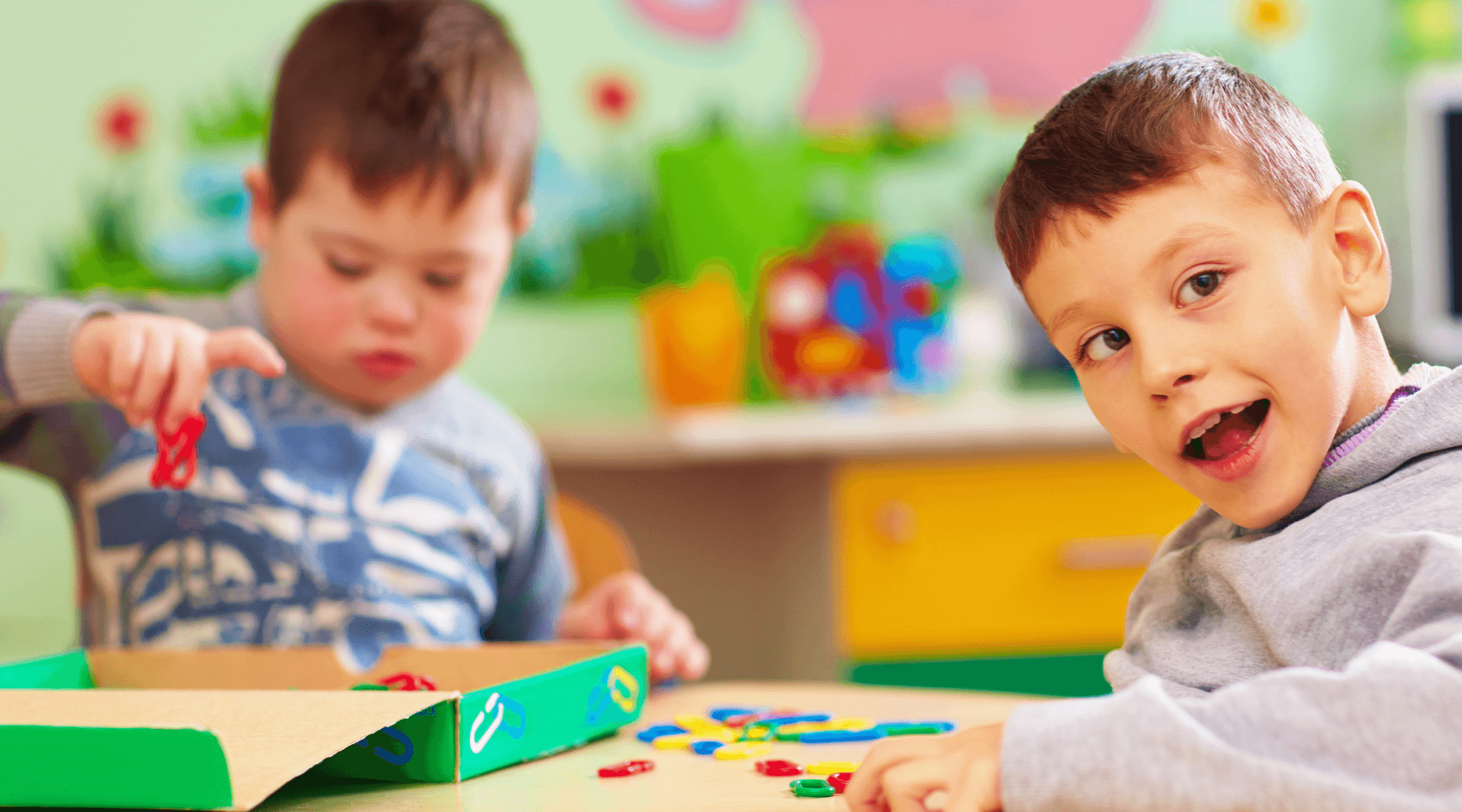 This information will help guide parent(s) and guardian(s) through the Early Stages process.
After a referral is made, an Early Stages team member will contact you in order to learn more about your child and to help determine if an evaluation will benefit your child. As part of this process, you will likely be asked to complete a brief developmental screening about your child using the Ages and Stages Questionnaire (ASQ). The screening takes about 15-20 minutes. At this time, you will learn more about our program and your rights in the evaluation process. If your child might benefit from an evaluation, we will schedule a time that works for you to come to one of our centers.
An evaluation is completed in order to learn more about your child's current level of development in multiple areas. Information learned through the evaluation process will help you and the Early Stages team decide whether your child is eligible for special education services. An evaluation can only begin after we receive written consent from the parent or guardian. Evaluations look at the following areas of development:
Communication: How your child understands and uses language
Physical: How your child moves, sees and hears
Cognitive: How your child learns
Social or Emotional: How your child relates with others and how their behavior impacts their daily life
Adaptive Skills: How your child performs daily tasks like eating and dressing
What to expect during an evaluation
On the day of your evaluation, you will meet the members of your evaluation team and be guided through your visit. Please expect to visit the center for two to three hours. The evaluation will be based on the specific areas of concern for your child, and may include:
Hearing and vision screening
Your child's medical, social, and family history
Assessment of certain skills such as speech and movement
Observation of social interactions and your child's responses to their environment
Parent rating scales and questionnaires to get your input
Your child will be engaged in activities that will feel like play and the Early Stages team will work to help your child feel comfortable and engaged. During the process, the Early Stages team will talk with you about what they are observing, and you will end your visit having learned more about your child's abilities.
You should feel free to ask questions or share any thoughts that will help make for a successful visit for you and your child. You are a key member of your child's evaluation team and your input is essential.
Who will conduct the evaluation?
Once you begin our evaluation process, a member of our Family Care team will be assigned to you. This person will help guide you through every step of the process and answer any questions you may have.
A group of experts will conduct the evaluation and assess your child's development. Team members are determined by your concerns and your child's needs, but may include special educators, speech and language pathologists, school psychologists, occupational therapists, physical therapists, hearing specialists, and vision specialists. These experts are all certified and hold advanced degrees in their area of expertise.
Following your child's evaluation, a meeting will be scheduled at a later date to determine if your child meets eligibility criteria to receive special education and related services. These criteria are established by the Individuals with Disabilities Education Act (IDEA) and the District of Columbia. During this eligibility meeting, the Early Stages team will review the full results of your child's evaluation with you. Together you will discuss whether your child is eligible and if so, under what eligibility category. If your child is not eligible, the Early Stages process ends here, but you should make sure to ask any questions you may have about how to continue to support your child's development. If your child is found eligible and you are a District resident, an Individualized Education Program (IEP) will be developed with you, usually the same day.
You may invite anyone you wish to join you for the eligibility meeting.
Individualized Education Program (IEP)
The IEP Meeting
During the Individualized Education Program (IEP) meeting, you and the Early Stages team will make decisions about your child's education. You will discuss educational goals for your child, as well as any additional services that may be necessary to reach them (known as related services). The IEP will list the goals that the team agrees are appropriate for your child, and it will include the amount and frequency of any related services. You are encouraged to provide input during the goal development process.
You must sign a consent form before an IEP is developed and special education and related services can begin. You may also choose not to provide consent to begin services and the process will stop. You may also stop services that you previously provided consent for, if you change your mind.
As with the eligibility meeting, you may invite anyone you wish to join you for the IEP meeting.
After the IEP meeting
Your child's IEP will become active after you complete the process, unless you and the Early Stages team decide that it is better to start the IEP at a later date. If your child is younger than three, the IEP start date will be the child's third birthday. You will receive a copy of the IEP soon after the meeting. If you need another copy of these papers or believe that the IEP has not been implemented properly, please call 202-698-8037.
The last step in the Early Stages process is to provide you with a school where you can enroll and begin IEP services. You will be offered a seat at your neighborhood school if the school can implement your child's IEP and has an available seat. If not, you will be offered a seat at the next closest school.
Early Stages can only offer enrollment at DCPS schools. We cannot place children into charter schools. However, any IEP developed at Early Stages is valid at any public school in D.C., including charters.
If you prefer to enroll your child in a private school or child care center, or you home-school your child, you may receive an Individualized Service Plan (ISP). An ISP does not offer the full range of services available on an IEP and may not fully meet your child's educational needs. However, an ISP does provide some level of support for children who will not be enrolled in a D.C. Public School. If you are eligible for an ISP, it will be developed at the same time as the IEP.
Cancellation Policy
Early Stages is required by law to follow strict evaluation timelines. Missed appointments will significantly impact our ability to serve families in a timely way. If you must cancel an appointment, please notify Early Stages as soon as possible. Cancellations with less than 24 hours' notice will be considered a missed appointment. This may result in your child's case being closed.